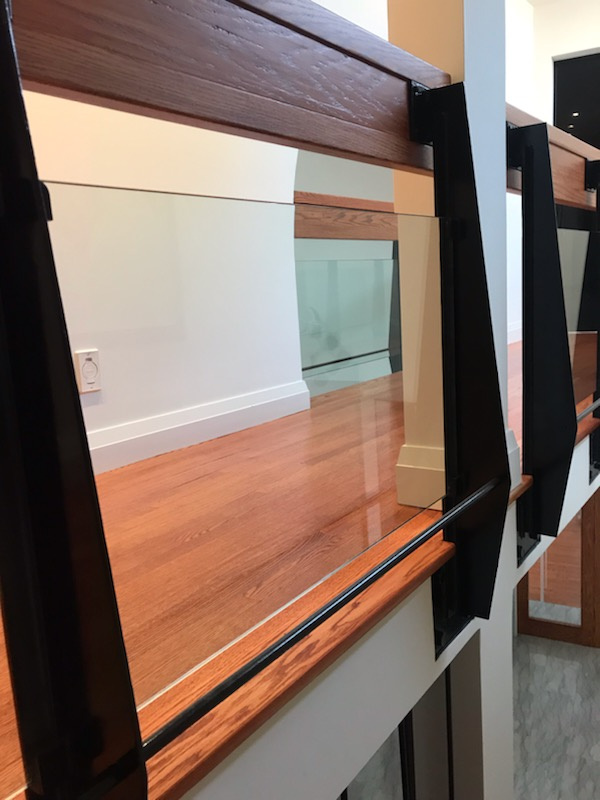 We offer sales and service work on all your floor covering needs, from new floors to brand new staircases, we can do it all. Our crew members are skilled craftsman, meaning they take their time when they are working on anything in your home or commercial property. We take pride in our work at G.S Hardwood, and it really shows. If you are interested in some of the beautiful work we have done, head over to our gallery to see some of our proudest work! Take a look at our list down below to see exactly what it is we offer!

Floor Sanding and Refinishing
We use quality machines from Hummel and Clarke to sand down your floors evenly, getting rid of nasty scratches and scuff marks. Our expert craftsmen then take their time to apply 3 coats of top quality polyurethane to your floor, ensuring a strong, durable finish is applied. When our crew is done, you won't even recognize your (old) floor!
Do you have a small area in your living room that's squeaking? Or a few boards near your staircase that are scratched/scuffed up? We offer a wide variety of flooring repair services, and depending on the size of the job we can have your repair done within just a couple of hours!
Not only are we able to offer hardwood flooring sales and service, but we also offer the same for railings and staircases! Whether you want to upgrade your existing staircase and/or railing, have an entirely new staircase built, or just want to refinish what you have currently, we can do it all.
We are pleased to offer any of our customers free in-home estimates, complete with color samples delivered right to your door. We offer work all around the GTA and beyond - just
give us a call
to book your appointment today!
Not only do we refinish flooring with a natural color, but we also offer color matching when staining! We can match any color from grey to dark, chocolate brown.
Ask us about our color match guarantee!
Floor/Carpet Removal and Flooring Installations
We offer full removal and disposal of any existing flooring you may have in your home. We also include repair and screwing down of the existing subfloor before we start any floor installation project - we want to make sure your new floor won't squeak! There is also a discount applied to any flooring you buy from us if you also hire us to install the floor as well -
find out more by contacting us for a free in home estimate.
Custom Flooring, Railings and Staircases
Since our craftsmen are exceptionally experienced, we are pleased to offer a wide range of customizations for your flooring or staircase project. Products such as glass railings, curved staircases, herringbone floors, or waxed/oiled floors are just a few examples of some of the 'custom' products we are able to provide our customers. If you have any custom project you would like to have quoted, don't hesitate to contact us!
We love to offer in-home service for our estimates, but we simply can't fit our entire product line into one of our trucks to bring to every customers house! So, we have a beautiful, brand new showroom located at
1295 Eglinton Avenue East, Unit #20, Mississauga, ON, L4W 3E6
for our customers to come and see our impressive product line, and decide on the perfect product for them.